We are so happy that you are coming out to our wedding!! We desire that your time here is as relaxed and as enjoyable as it can be. With that in mind, below we have compiled a few things to make it easier for you.
Hotels:
Howard Johnson
(3.4 miles from ceremony; 4.9 miles from Reception) Rated 4/5 on TripAdvior
400 S Meridian Ave., Oklahoma City, OK 73108
Phone number: 405.943.984
Prices:
Summer sale: Beginning at $48/night with minimum of 2 nights stay
Sleep Inn and Suites
(12.6 miles from ceremony; 13.6 miles from Character Inn) Rated 4.5/5 on TripAdvior
12024 N I 35 Service Rd, Oklahoma City, OK
405.478.9898
Prices:
Beginning at $86/night
Sheraton Hotel
(8.1 miles from ceremony; within walking distance of Character Inn) Rated 3.5/5 on TripAdvior
1 N Broadway Ave., Oklahoma City, OK
405.235.2780
Prices:
Beginning from $169/night (plus $10/night for parking)
On Groupon: $116/night (plus $10/night for parking)
Maps:
Ceremony Location: Northwest Bible Church 
4301 NW 36th St., Oklahoma City, OK 73112
Reception Location: Character Inn Conference Center
520 W. Main St., Oklahoma City, OK 73102
Attractions/Sightseeing 
Downtown Oklahoma has some great attractions to keep you busy while waiting for the wedding bells! Below is a few places that we thought we would like to share with our guests.
The Myriad Botanical Gardens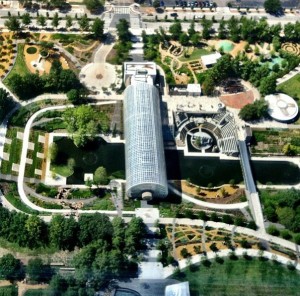 The Myriad Botanical Gardens is one of Oklahoma City's most beloved public spaces, offering its visitors a 15 acre natural escape in the very heart of the metro known as downtown Oklahoma City. It is a few short blocks from the Character Inn Conference Center. It boasts of beautiful grounds that are available 6am-11pm to stroll through and (for a small fee) a Crystal Bridge Tropical Conservatory which is open 9am-5pm. See website for details.
Through the month of August, Sonic is sponsering a summer movie in the park on Wednesday evenings. August 19 starting at 9pm, they will be playing Guardian's of the Galaxy. Take a towel or lawn chairs and enjoy the green grass and a good flick! Click here for flyer. 
Bricktown
Bricktown is an entertainment district just east of downtown Oklahoma City. It was formerly a major warehouse district. The major attractions of the district are the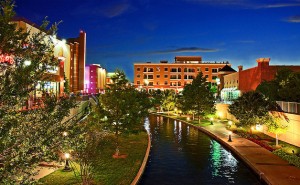 Chickasaw Bricktown Ballpark, the navigable Bricktown Canal, and the 16-screen Harkins movie theater. Toby Keith's I Love This Bar & Grill is located in Bricktown, as is the corporate headquarters of Sonic Drive-In.
We highly suggest taking a stroll down the river walk. Its a nice relaxing walk with history sprinkled along the way. 🙂
Click here for the interactive map.
Boathouse District/Riversport Adventures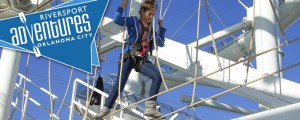 RIVERSPORT Adventures is your passport to the most exciting attractions in the Boathouse District on the Oklahoma River and at Lake Overholser! In the Boathouse District you'll find the SandRidge Sky Zip across the Oklahoma River, the SandRidge Sky Trail adventure course and Sky Slide, the Rumble Drop 80-foot free fall, and the Youth Zone – plus kayaking, stand up paddle boarding, dragon boating, climbing walls, cycling and more. Pay one price and play all day, or select a single one-hour experience.